Tooth Extractions
The team at Stones Corner Dental provides high-quality care for every stage of life. We've been proud to serve area families and individuals for more than three decades. When you need to have a tooth extracted, you can feel confident that our experienced, gentle team will help you through each step of the procedure. You'll be able to complete your visit with ease, even if you have felt nervous about visiting the dentist in the past.
When a Tooth Should Be Extracted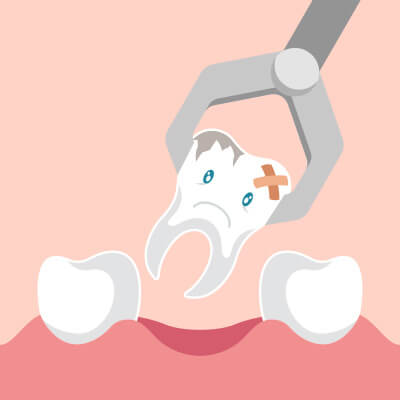 Whenever possible, we want to preserve your natural teeth. It's important to retain them so that your smile can be natural and easily cared for. In certain situations, however, we may not be able to save your tooth with measures such as a root canal treatment. In such a case, you may need to have it extracted. Some examples include a dental emergency, severe tooth decay, impacted wisdom teeth or before starting orthodontic treatment.
You may also need an extraction if you have serious tooth decay, an abscessed tooth, baby teeth that haven't been lost and for large cracks or fractured tooth roots. We'll perform an examination and take X-rays to check whether your case necessitates an extraction.
What to Expect During an Extraction
You can rest assured that we'll keep you comfortable during your entire procedure. The first step will be to have the area around the extraction site completely numbed. We won't begin until you agree that you're ready. Then, we'll start with the extraction, guided by your X-rays to complete the procedure efficiently. Some situations may require sutures being placed. If so, they may be dissolvable or you can return to have them removed in a week.
Your Aftercare Instructions
We want you to recover as quickly as possible after you've had an extraction. Be sure to follow these instructions:
Apply cold compresses to the outside of your cheek to decrease swelling
Do not chew on the side of your mouth with the extraction site for one week
Eat soft foods for 1-2 days
Take any medications exactly as prescribed or over-the-counter painkillers as needed
Call if you have any concerns
Sedation Dentistry Available
You can complete your procedure with ease thanks to our sedation dentistry options. Even nervous patients are able to get through their care with us. If you are extremely anxious or have a more complex extraction, we can provide an anaesthetist to help you through your procedure.
Book Your Visit Today
Show off a healthy, beautiful smile. Contact us today to schedule your appointment for extractions in Stones Corner or our many other options. Health fund rebates can be claimed on-site with our HICAPS machine.
CONTACT US
* Any invasive or surgical procedure may carry risks. Before moving forward, it is recommended that you seek a second opinion from an appropriately licensed medical professional.

Tooth Extractions Stones Corner, Greenslopes QLD | (07) 3397 6548