Crowns and Bridges
Has your smile been damaged over the years? Teeth can break down from ageing, an accident or poor oral hygiene. No matter what the reason is behind your smile being less than perfect, we have the solutions that you need to restore your pearly whites. At Stones Corner Dental, we can create a customised crown or bridge that will have you loving your smile again.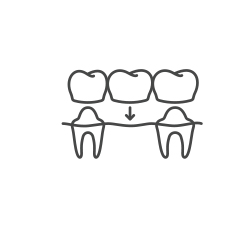 Dental Bridges
A dental bridge allows you to regain the full function of your teeth if you are missing a single tooth or multiple teeth. When several dental crowns are fused, it creates a dental bridge. The crowns on either end of the bridge are attached to your natural teeth that neighbour the gap where teeth are missing. The middle crown or crowns are then suspended into the open space, filling the gap.
You can also choose to have a dental bridge attached to a dental implant that has been surgically placed. Our team can provide the restoration portion to complete your implant procedure.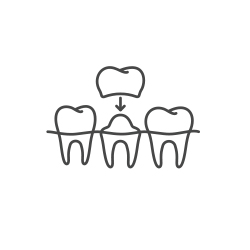 Dental Crowns
A dental crown looks just like an artificial tooth except that it is hollow. It fits snugly over a tooth that has been damaged by trauma, decay or has worn down over time. When the crown is placed on the existing tooth, it gives your tooth greater durability. You won't have to worry about it breaking down further and can eat the foods you want to.
A crown is also appropriate after having root canal treatment. You can also have a crown placed on top of a dental implant to complete the implant procedure.
What to Expect When Getting Crowns or Bridges
You need to have two appointments to get a dental crown or a dental bridge. At the first visit you have with us, we'll examine your mouth and take information such as impressions. This data is used at our laboratory to create your crown or bridge. You'll receive a temporary crown or bridge to wear until yours is completed.
At your second appointment, we'll have received your crown or bridge back from the laboratory. We'll place it and make sure you and your dentist are satisfied before cementing it into place.
Available in a Variety of Materials
When you get a crown from us, you can choose from different materials depending on your needs. Porcelain, metal fused to porcelain and full gold crowns are often used. Dental bridges are usually made from porcelain. If we feel that another material is most suitable for you, we'll discuss it with you at your consultation.
Get Started Today
Learn whether crowns and bridges in Stones Corner are the right solutions for you. Contact us today! We have same-day appointments available.
CONTACT US
* Any invasive or surgical procedure may carry risks. Before moving forward, it is recommended that you seek a second opinion from an appropriately licensed medical professional.

Crowns and Bridges Stones Corner, Greenslopes QLD | (07) 3397 6548