TMJ/TMD Treatment
The team at Stones Corner Dental provides a full suite of solutions. We welcome your entire family to our practice and can make sure that their needs are met during each stage of life. If you have problems related to your jaw, we include TMJ treatment in our options.
Our Conservative Approach
To address your concerns, we take a conservative approach to treatment. Though some dentists may recommend surgery for temporomandibular joint disorder (TMD), we begin with less aggressive outcomes. Most of our patients get satisfactory outcomes in cases of mild to moderate TMD.
Jaw-Related Disorders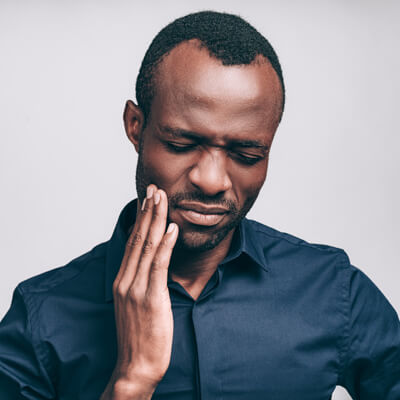 The muscles in your jaw are extremely strong. They work to maintain your bite even when you're in a state of relaxation. Your posture is also linked to your bite. When you have a jaw-related problem, it affects your head, upper back, neck, shoulders and of course, your jaw. You can have pain in any of these areas if you have TMJ/TMD. You may also notice that your jaw isn't properly aligned. We can examine your jaw and look at your bite to ensure that your muscles stay relaxed as they should.
Do You Have TMJ?
You may wonder if your problems could be related to TMJ/TMD. There are certain common symptoms that you can experience, such as:
Pain in the head, face, ear and jaw
Clenching and grinding teeth
Popping and clicking in the jaw
Chronic headaches and migraines
Inability to open mouth wide
Unrestful sleep
What to Expect During Your Appointment
If you think that you have TMJ/TMD, you can book a separate appointment for a consultation or you can bring it up at your regular checkups with our team. We'll examine your jaw joint and teeth. We want to determine the reason for your jaw dysfunction. In doing so, we can then make a decision about the most appropriate treatment for you. This custom approach ensures that we get you the solution that's right for your situation.
Same-Day Visits Available
If you're in pain, you don't want to wait to get attention. Our team is pleased to offer same-day appointments. That means we can get started on stopping your discomfort straightaway. You won't have to face long waiting times before you can get in for a visit.
Health Funds Accepted
You can use your health fund coverage with us. We have a HICAPS machine on-site so that your rebate can be claimed on the spot. If you don't have health fund cover for dental, we'll be happy to discuss our payment plan options with you. Contact our friendly team today to schedule your appointment!
CONTACT US
* Any invasive or surgical procedure may carry risks. Before moving forward, it is recommended that you seek a second opinion from an appropriately licensed medical professional.

TMJ Treatment Stones Corner, Greenslopes QLD | (07) 3397 6548