Scale and Cleans/Checkups
The team at Stones Corner Dental will help you and your loved ones have excellent oral health for life. We welcome your entire family to our clinic and see patients of all ages. Your regular checkups should occur every six months. By having them, you can make sure that any potential issues are caught early and treated. Coming in twice a year also will keep your teeth feeling clean and looking gorgeous when you have a scale and clean performed with your checkup.
Keeping You Comfortable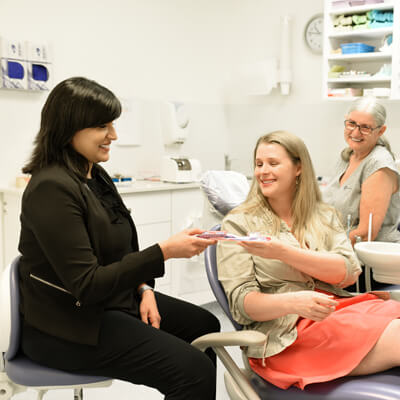 We understand what it's like to feel apprehensive about visiting the dentist. You might be pleasantly surprised to find out that you feel comfortable with our experienced, friendly team.
If you require an extra measure of assistance to relax, we'll be happy to provide you with happy gas, or nitrous oxide, during your appointment. Since the effects last for a short time, you won't have to worry about having someone accompany you to your visit with us. You'll be able to return to your daily activities straightaway.
What to Expect During Your Appointment
When you have a checkup with us, the procedure is as follows:
An examination of each tooth
A periodontal evaluation
X-rays, taken if needed
Oral cancer screening
If you book in for a scale and clean as well, we'll polish away surface stains and leave your teeth gleaming. All buildup is removed from your teeth and you'll leave loving how smooth your teeth feel.
Screening for Gum Disease
Gum disease, or periodontal disease, is increasingly common. This serious condition can lead to tooth loss if not caught and treated straightaway. The symptoms to keep an eye out for include swollen, bleeding or red gums, chronic bad breath, receding gumlines or teeth that shift. If you notice any of these signs of gum disease, be sure that you contact us to book in for an evaluation.
Frequently Asked Questions
Will you recommend further treatment?
If we identify a need for more treatment at your checkup, we'll discuss it with you. You'll be given all the possible options for treatment so that you can choose how to proceed.
What if I require a deeper form of cleaning?
If you have gum disease, we can perform a scaling and root planing, which is a deep clean. This form of cleaning will help to manage your gum disease.
How often do I need to have an examination?
We recommend that you come in every six months for a checkup and scale and clean. If you have mild or moderate gum disease, we may need to see you more often. We'll discuss what's right for you at your appointment.
Get Started Today
Do you need a checkup/scale and clean in Stones Corner? Contact our team today to schedule your first appointment!
CONTACT US
* Any invasive or surgical procedure may carry risks. Before moving forward, it is recommended that you seek a second opinion from an appropriately licensed medical professional.

Scale and Clean Stones Corner, Greenslopes QLD | (07) 3397 6548