Custom Mouthguards
You want your smile to last a lifetime. If you or your child is active in sport, you're at a high risk of having an injury to your mouth, jaws and head. You can provide yourself and your kids with an extra measure of protection by having a custom-created mouthguard. Worn during practice or matches, a mouthguard allows you to speak and drink water while ensuring you can preserve your smile.
At Stones Corner Dental, you can choose the colour of your mouthguard to match your team colours. We'll work with you to make sure that your mouthguard is comfortable and fits you properly.
What Is a Mouthguard?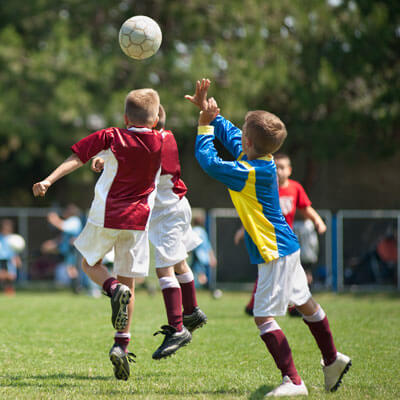 A mouthguard is a cushioning barrier that is worn on the teeth. During an impact, it absorbs the force so that your teeth, jaws or head don't have to. It's appropriate for sport such as football and rugby when there is contact involved.
A professionally made mouthguard isn't like the bite-and-boil kits you can purchase at the chemist. These mouthguards will fit loosely, which means your teeth aren't well-protected. Our mouthguards are custom-designed and created from a strong yet comfortable material. You won't have pain when you wear it and you can feel confident that it will be long-lasting.
What to Expect When Getting Your Mouthguard
The first step is to have an evaluation with our dentists. We'll examine your teeth, then take impressions of your mouth. These impressions are then sent to our laboratory. Our experienced team will fabricate your custom mouthguard, then send it back to our practice. You can return to us for a follow-up and try your mouthguard out.
If we find that you require any adjustments, we'll have the laboratory make the required changes to your mouthguard. We want to make sure that your mouthguard is perfect for you.
Ensuring Your Mouthguard Lasts for Years
You can bring your mouthguard in with you to your regular checkups so that we can look at the fit and make sure nothing needs to be shifted. Before and after you use it, give your mouthguard a rinse in cold water. Avoid hot water, which can warp the mouthguard's shape.
Payment Information
We accept all health funds and have a HICAPS machine. You can claim your rebate at our practice with no waiting times. We also have payment plans available with flexible terms. Contact our team today by phone or email to schedule your appointment for mouthguards in Stones Corner!
* Any invasive or surgical procedure may carry risks. Before moving forward, it is recommended that you seek a second opinion from an appropriately licensed medical professional.

Custom Mouthguards Stones Corner, Greenslopes QLD | (07) 3397 6548