Teeth Whitening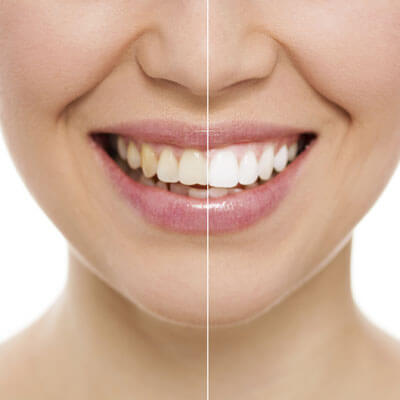 If you think your teeth aren't looking as bright as they used to, you might be ready for a change. Our teeth can change shades over time, often looking yellowed. Drinking coffee, tea, wine or staining foods like berries can affect the way your teeth appear. If you would like to give them a boost, you can have your teeth whitened at Stones Corner Dental.
Our team provides you with two options: an in-chair whitening procedure with polaoffice or a poladay take-home whitening kit. Here's a look at each product.
Get Instant Results With polaoffice
Seeking to have your teeth whitened as quickly as possible? If yes, in-chair whitening with polaoffice might be best for you. polaoffice + is the latest in professional level teeth whitening procedures. It is a quick and straightforward treatment that will leave your teeth looking gleaming white.
Thanks to polaoffice's unique formula, achieving a brilliant smile only takes 30 minutes. The bleaching process that's used releases quicker than other tooth whitening and bleaching products.
Many people who will be participating in a wedding, job interview or upcoming social event choose to have this procedure. You'll lie in a comfortable dental chair and let our team do the work for you. A concentrated whitening solution is applied to your teeth and left on for a specific period of time. When you leave our clinic, you'll be showing off your newly brightened smile!
Brighten Your Smile Gradually With poladay
Not in a hurry? If you don't need to see fast results, you may want to opt for our take-home whitening kit from poladay. Our patients love the fantastic whitening power of these simple kits. Another benefit of poladay is it contains fluoride to remineralise your teeth and shield them against tooth sensitivity.
You'll get everything you need from us to complete your whitening at home, usually wearing your whitening trays for 30 minutes a day for several days. You'll receive full instructions from us when you purchase your kit.
Who Should Whiten Their Teeth?
If you want your teeth to look brighter for an upcoming event or just for the boost to your self-esteem, whitening might be perfect for you. You can also choose to have whitening done in conjunction with another treatment, such as orthodontics.
Most people are a candidate for teeth whitening, with the exception of children. We don't recommend it for kids because their teeth are developing and sensitive. If you are interested in teeth whitening, we'll examine you for any signs of decay and gum disease, which must be addressed before embarking on a teeth whitening procedure. Keep in mind that any restorations you have, such as a crown or filling, won't be bleached.
How Whitening Works
You can have your whitening solution applied in the chair, needing just a single application. You may also purchase a whitening kit and complete your procedure at home over a period of days. No matter which you choose, the mechanism is the same. The whitening product breaks down into ions of water and oxygen. The oxygen ions will enter the enamel of your teeth, attacking long stain molecules and breaking them down. Short and colourless, they can then be washed away by your saliva.
BOOK YOUR VISIT TODAY
You don't have to wait to get started on improving your smile. We have same-day visits available. Contact us today to schedule your appointment for teeth whitening in Stones Corner!
CONTACT US
* Any invasive or surgical procedure may carry risks. Before moving forward, it is recommended that you seek a second opinion from an appropriately licensed medical professional.

Teeth Whitening Stones Corner, Greenslopes QLD | (07) 3397 6548