Children's Dentistry
At Stones Corner Dental, we love working with patients of all ages—especially your little ones. We're proud to offer a variety of children's dentistry services that will keep your child smiling for years to come.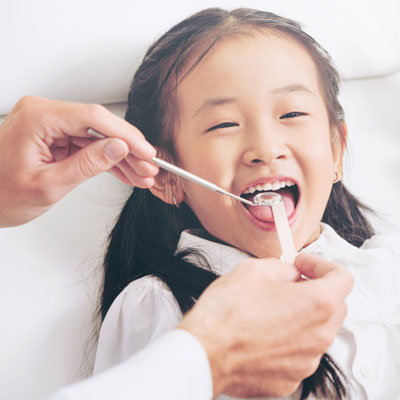 Focused, Comfortable Care for Kids
We know a first dental visit can be difficult—but we'll be here for you every step of the way.
From the moment you enter our practice, we want you and your child to feel at ease. Our entire staff is here to make their visit an easy one—we hope they'll enjoy coming back to see us!
Your child's first visit with us should be no later than their first birthday. This is because we're able to catch any problems with teeth eruption early on, before they become troublesome. This will also help your child get familiar with our environment. As your child grows and continues to visit us, we'll teach them proper oral hygiene habits. Similar to adults, we recommend twice-yearly visits with us.
Key Milestones for Children's Teeth
Many parents wonder when their children's teeth will begin to show. While every child is different, you can expect something similar to this timeline:
Baby Teeth:
8-13 months: Lower central incisors
8-16 months: Lateral incisors
13-19 months: First molars
16-23 months: Canine teeth
25-33 months: Second molars


How Can You Care for Baby Teeth at Home?
While a teething infant isn't always a ray of sunshine, it's important to care for their new teeth as best as possible. When a new tooth is erupting, it should take roughly 8 days total. You may notice a bluish lump near the tooth—most likely, this is just an eruption cyst and will not require care.
When your baby is teething, clean and massage their gums with a damp cloth or your finger. A cold teething ring can also provide just the right amount of comfort for them.
For children that are older and have adult teeth coming in, we suggest monitoring their brushing until you're certain they aren't skipping out on the healthy habit. Use a children's toothpaste until age 6. You should also minimise their sugar intake as best as possible—we know this can be difficult!


Get to Know More About Us
We'd love to invite you and your little one into our practice. If you have additional questions that we can't answer, please don't hesitate to give us a call. Learn more today by contacting us to book an appointment for your child.
We can't wait to welcome you both into our care.
CONTACT US
* Any invasive or surgical procedure may carry risks. Before moving forward, it is recommended that you seek a second opinion from an appropriately licensed medical professional.

Children's Dentist Stones Corner, Greenslopes | (07) 3397 6548